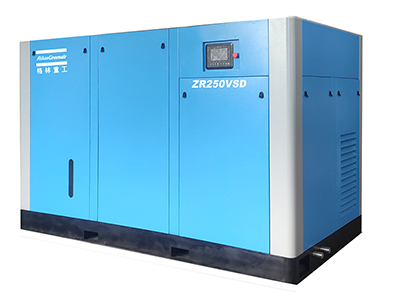 Variable speed drive (VSD) Oil-free rotary screw compressor consists of driving motor, cooler, dehumidifier, filter and controller which can ensure high efficiency running and some other parts. The product with full function is also equipped with drying unit. Atlas Greenair's product can satisfy your requirements of air. Meanwhile, it can make full use of the precious floor area.

The VSD series air compressor can change the speed of driving motor by adopting integrated frequency converter. Thus, the speed can match with the air requirements of the compressor. And minimum energy will be consumed without additional investment.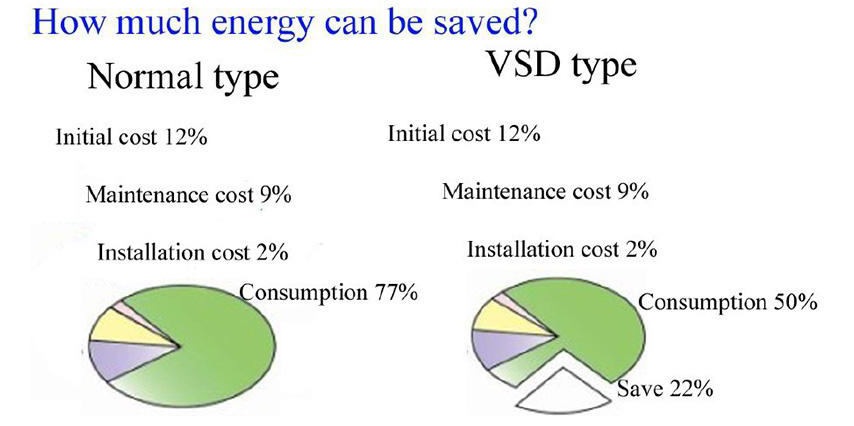 Features: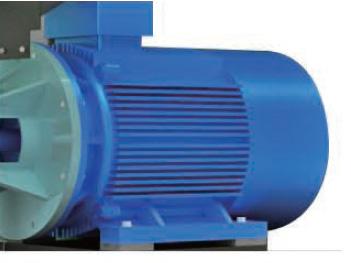 1. High efficiency running
Fixed speed Oil-free rotary screw compressor adopts motors from famous brands of which the insulation grade is F. The bearings which is used at the internal is from SKF. This series of compressor also adopts lubricating grease. As a whole, this series of compressor is highly efficient.
2. 100% oil-free compressed air
In an oil-free rotary screw compressor, the air is compressed entirely through the action of the screws, without the assistance of an oil seal. Oil-free compressors are used in applications where entrained oil carry-over is not acceptable, such as food packaging, medical oxygen and semiconductor manufacturing.
3. Energy consumption
The variable speed Oil-free rotary screw compressor provides the optimum combination of high Free Air Delivery (FAD) with the lowest energy consumption.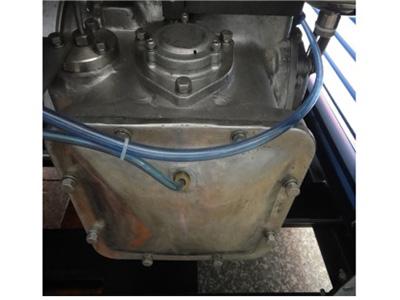 4. Sound-proof enclosure
The vertical layout of cooler reduces the noise from fan, motor and electronic parts and components. Moreover, the compressor is equipped with sound-proof enclosure. So the product can be installed under most working environment without independent compressor plant.
Main data for VSD Oil-free rotary screw compressor
Model
Pressure
FAD (Free Air Delivery)
Power
Noise
Weight
Size of inlet and outlet of cooling water
Quantity of cooling water
Dimension
L×W×H
Mpa
m3/min
kW
dB(A)
Kg
T/n
mm
ZR7VSD
0.8
0.45-1.15
7.5
58
500
3/4″
2
1300×800×1300
1.0
0.41~1.02
ZR11VSD
0.8
0.62~1.55
11
58
540
3/4″
2.5
1400×870×1180
1.0
0.53~1.32
1.25
0.48~1.02
ZR15VSD
0.8
0.96~2.4
15
63
650
1″
3.5
1400×870×1180
1.0
0.85~2.12
1.25
0.64~1.61
ZR22VSD
0.8
1.4~3.5
22
65
870
1″
5
1400×870×1180
1.0
1.25~3.13
1.25
1.04~2.61
ZR30VSD
0.8
2.0~5.0
30
66
980
1 1/4″
7
1850×1300×1500
1.0
1.68~4.2
1.25
1.52~3.81
ZR37VSD
0.8
2.44~6.1
37
67
1000
1 1/4″
9
1850×1300×1500
1.0
2.09~5.22
1.25
1.92~4.81
ZR45VSD
0.8
2.92~7.3
45
68
1060
1 1/2″
10
1850×1300×1500
1.0
2.45~6.13
1.25
2.26~5.65
ZR55VSD
0.8
3.84~9.6
55
70
1250
1 1/2″
12
1850×1300×1500
1.0
3.44~8.6
1.25
2.97~7.42
ZR75VSD
0.8
5.0~12.5
75
73
1480
1 1/2″
18
1850×1300×1500
1.0
4.57-11.42
1.25
3.93~9.83
ZR90VSD
0.8
6.52~16.3
90
73
2030
2″
20
2600×1480×1700
1.0
5.81-14.52
1.25
4.92~12.3
ZR110VSD
0.8
7.76~19.4
110
78
2450
2″
24
2600×1480×1700
1.0
6.76~16.9
1.25
6.04~15.1
ZR132VSD
0.8
8.88-22.21
132
78
2850
2″
30
2600×1480×1700
1.0
8.15-20.38
1.25
7.31-18.29
ZR160VSD
0.8
11.54-28.85
160
78
3750
2 1/2″
35
3300×2200×2000
1.0
9.81-24.52
1.25
8.87-22.17
ZR200VSD
0.8
14.65-36.63
200
78
4100
3″
43
3300×2200×2000
1.0
13.1~32.7
1.25
11.09-27.72
ZR250VSD
0.8
17.15-42.88
250
78
4750
3″
53
3300×2200×2000
1.0
15.6~39
1.25
13.87-34.64