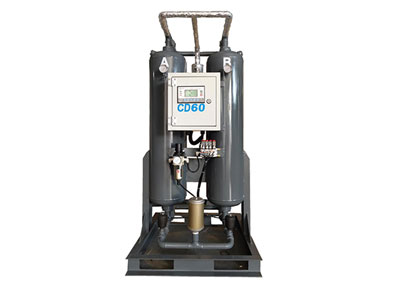 Atlas Greenair desiccant compressed air dryers use special adsorbents for air purification. This adsorbent features a strong adsorption capacity, mold removal, sterilization and deodorization process so that the final air quality will meet ISO8573.1 Class 2.1 standards. This gives the air compressor a longer service life and lowers operation costs. And, as no refrigerant is required for a desiccant compressed air dryer, as compared to a refrigerated compressed air dryer, it is more environmentally friendly with a better temperature and weather resistance.
Working condition
Dew point temperature -40℃~70℃
Regeneration of air capacity 12%~15%
Inlet temperature lower than 40℃
Air pressure 8kg/cm²
Power supply 1P~220V or 3P~380V, 50HZ/60HZ
Advantages
Desiccant compressed air dryers are designed with a special silencer to efficiently reduce the air dryer's noise levels.
The air dryer combines a high-quality pneumatic valve with an air compressed actuated valve, thus achieving a stable and accurate switching, which ensures stable air dryer operation.
The air dryer is remote controlled for a high precision operation. Remote control and central simultaneous control can both be used in this air dryer.
Optional models
Model
Air handling capacity (㎥/min)
Air capacity (SCMF)
Inlet and outlet size
Overall dimension H×W×D
Net weight (kg)
CD10
1.3
43
1/2"
1200×550×450
130
CD20
2.5
88
1"
1800×650×550
240
CD30
3.8
135
3/2" PT
1900×650×550
280
CD50
7
240
1850×810×600
320
CD75
10.6
317
2"PT
1950×930×650
410
CD100
14.5
459
2100×1000×800
530
CD150
18
635
3"PT
2300×1120×900
680
CD200
24
812
2400×1250×1000
850
CD250
29
987
2500×1300×1000
1050
CD300
36.5
1200
2600×1300×1200
1300
CD450
45
1593
4"PT
2600×1750×1500
1500
CD500
53
1876
2600×2900×1600
1850
Notes
The rated air capacity should be adjusted when the working temperature and pressure go beyond the specified requirements.
Customized air dryers with variable temperatures and pressure levels are available.
For more detailed information on air dryer specifications, please feel free to contact us.