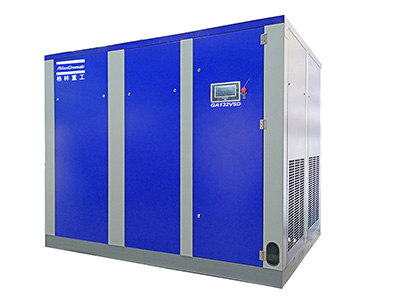 Motor power (HP) 10-335
Motor power (kW) 7-250
Working pressure (bar) 7-13
Volumetric capacity (m³/min) 0.3-45.7
Voltage (V) 220/380/415/440/460
Frequency (Hz) 50/60
Description
There are two operating modes for Atlas Greenair's GAVSD series compressor: Power frequency and variable frequency. The power frequency and variable frequency compressor requires no shutdown when the variable frequency drive fails, unlike traditional air compressors. Changing the operating modes in the air compressor frequency further facilitates normal air usage.
Benefits
High efficient variable frequency drive
At Atlas Greenair, a highly efficient PWM variable frequency drive is used according to the EMC standards, reducing harmonic distortion and power loss to the motor.
Variable-frequency speed control system
The GAVSD series compressor uses an Green air group air end with the drive motor speed altered accurately based on compressed air demands. Under these conditions, the optimum energy efficiency and less pressure surges are achieved with the pressure surge ranging within 0.1bar, ensuring a constant voltage output.
Motor soft starter
This motor soft starter is able to achieve a variable frequency soft start without the use of a gear box, which produces no peak current when the compressor starts up, reducing mechanical pressure and ensuring a more stable operation and longer lifespan of the air compressor.
Optional models
Notes
Specifications are specified according to ISO1217.ED3.Annex C.1996.
Atlas Greenair is able to provide customized compressors with diverse specifications.
Operating condition: With the inlet absolute pressure of 1bar and inlet temperature of 20℃.